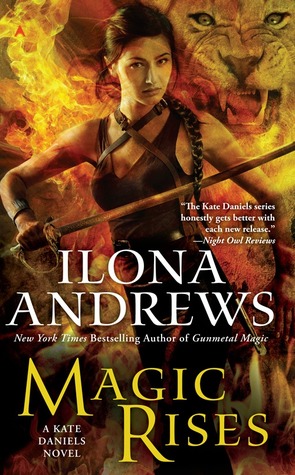 Magic Rises by Ilona Andrews
My rating: 4 of 5 stars
Holy molly, how it was packed. I was on the edge of my seat the whole time, trying to decide weather I should panic, rage on Kate's behalf or relax and enjoy the bloodbath.
So it went like this: Curran got an invitation from the european packs to be an objective third party in a conflict involving a pregnant woman and her two husbands in a power struggle for her crazy father's territory. The prize for keeping the girl safe until babies came is a shit ton of panacea, wich Curran needs for his pack. Talk about a carrot on a string. Everyone knows it's a setup but they are desperate enough to go anyway. And big surprize – it doesn't go very well!
I loved that a story took place in Abkhazia, it has beautiful culture and gorgeous territories, not to mention very generous people. Kudos to the IA team for going outside the box on this one.
And can we talk about the myphology in these books?

I'll try to pace myself as I only have three books left and I'm not ready for it to stop yet. Wish me luck ;D
Over and out