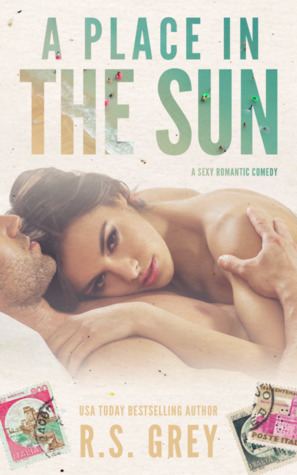 A Place in the Sun by R.S. Grey
My rating: 5 of 5 stars
Georgie did not disappoint in the least. She's as crazy and fun and over the top as she was in Settling the Score, only now she is 26 and tired of her mother's constant attempts at matchmaking.
"You're in your prime, Georgie!"
As if this was the seventeenth century.
"You're getting older every day!"
She'd said this to me at my twentieth birthday party, just before gifting me an actual antique hourglass, making sure to emphasize the symbolism by flipping it upside down in my hands.
"You're really ought to loosen your standarts. That man who comes round your house every now and then is so handsome and in quite good shape."
She's been referring to the postman.
I feel like the Duchess and my mother would've been fast friends. Honestly, it's not my fault that men around me are blind, deaf and crazy.

So, what a girl to do? Go to Italy of course, where the sun is warm and welcoming and hot men are aplenty. Georgie being Georgie, she won't ever settle for easy thing and so she finds the most unavailable man in town to get the hots for. It doesn't really matter if he wants it or not, they gonna have their happily ever after if it's the last thing she does.
Funny, heartfelt, romantic (Duh! Italy!), this book was a perfect summer read in the middle of winter. I approve!
Over and out