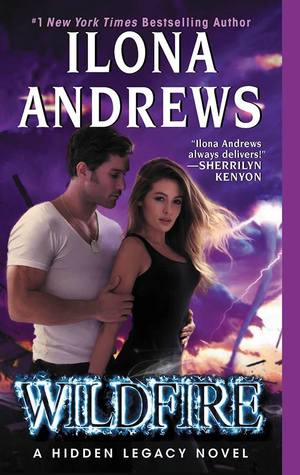 Wildfire by Ilona Andrews
My rating: 5 of 5 stars
Song: The Chipmunks & The Chipettes- We Are Family (Movie Version)
I need more. More Rogan, more Nevada, more grandma Frida, more Sergeant Teddy… More books, please Ilona Andrews, please, with a chocolate mousse on top.
Buddy read with my freaky mind-twin Nel.
The third and final (?) book is about Nevada taking on a case for Rogan's ex fiance, Rynda. Despite everyone trying to talk her out of it, she tucks her feelings in and proves that she's a professional.

The case turns out to be tied to the conspirators who try to destabalize Houston and hopefully it will lead to the identity of the Ceasar. I gotta say, I was thinking on another person for that role, I had my case all built up and ready to go. That teaches me!
Anyway, the book was great, it had great story and characters. There were otherwordly creatures that were so adorable you wanted to cuddle them, when they weren't trying to eat someone. We found out what Arabella's gift is and explored Leon's along the way. Nevada and Rogan's relationship progressed to the point where I was just swooning at their adorkableness. Evil grandma had been dealt with and Baylor family is on their way to become one bad-ass House.
It was all great, but I thought it was weird that Augustine didn't turn up anywere in the book. I feel like he was building into becoming a bigger part of the solution. And that's just another thing that didn't make this book feel final in the series, now I'm hearing that there might be another one and I hope it's true. There were too many open storylines. I wouldn't mind a spin-off too. Catalina has a good potential, as well as a couple other people. I just really don't want it to end.

Fingers crossed for future books.
Over and out