Archangel's Enigma by Nalini Singh
My rating: 5 of 5 stars
Song: Where Have You Been by Rihanna
"What other creatures are on your list?"
"Chupacabra."
"I hope it exists. It has the best name."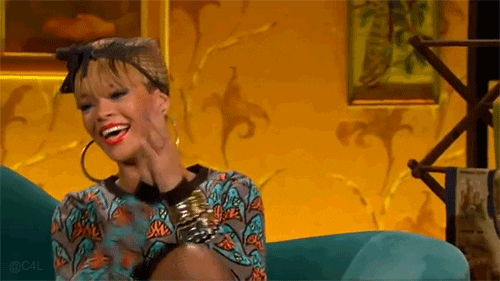 No, don't get your panties in a twist, Naasir is not a chupacabra. I'm not gonna tell you what he is either so don't look at me that way. My will is strong and unshakeable. All I'm going to say is that he is not what I thought he was.
Now that he is a big boy and most of his friends are coupled, Naasir decides to hunt down his own mate. All this love in the air could be quite contagious. And what do you think? Naasir, my sweet sweet boy, Naasir. From all the women in the world you had to pick one with a vow of celibacy. Funny as that is, I didn't think it could work, but I was so totally wrong. Andromeda was a perfect match for him, in every way.
As much as I loved the main couple, I was really enjoying the storyline too. Even Lijuan's POV, if you can believe it. For some reason I found myself sympathizing with Xi, her general. Dude is not evil or even that twisted. He just gave his loyalty to the archangel, who, at that point in time even deserved it, but now it's just blind faith and I'm never for that shit. All the glimpses we gained to past Lijuan and even her appearences in first books, made her seem adequate enouth. Now she's just bat shit crazy. Trying to kill Alexander in his Sleep is just the latest of her bright ideas. All thanks to some ancient prophecy. Funny how the prophecies are always tricking you into doing all the work for them, huh?
My fangirling heart had a treat with this one. Besides Naasir, we had a pretty cool Illium storyline, and Alexander was not so bad, and for umpteenth time I appreciated Raphael for how great he is. I'm really really glad that I found this series. It's a real jem.
Over and out